Table of contents
Keep your browser up to date
We take your security very seriously. In order to protect you and our systems, we are making changes to all HSBC websites over the coming weeks that mean some of the oldest web browser versions will no longer be able to access these sites. Generally, the latest versions of a browser (like Internet Explorer, Google Chrome, Apple Safari, etc.) and an operating system family (like Microsoft Windows, MacOS) have the most up-to-date security features.
If you are not using recent browser versions, please upgrade your browser to the latest version via their websites or search online for advice on how to do this.
To find out more about how to protect yourself online, please visit our online security pages.
HSBC Safeguard
In today's increasingly connected world, it's more important than ever to ensure your security - especially when it comes to banking. That's why we're introducing HSBC Safeguard: a series of initiatives designed to provide better protection for all of our customers from fraud and financial crime across our global processes and systems.
Information is key to protection
Our systems and processes rely on us having the most up-to-date information about all of our customers. Soon you will be asked to do one or all of the following:
confirm or update your existing personal or business details
provide some new information which may include submission of original documents
We understand that this may cause some inconvenience, and we apologise in advance for this, but we will work with you to ensure the process is as simple and straightforward as possible.
Learn more about financial crime
Providing additional information
Why providing information is important
Why is financial crime of concern to the bank?
What has financial crime got to do with you or your business?
What information are we likely to request?
How will this information protect you or your business?
What will we do with your data?
What do you need to do next?
HSBC Secure Key
Introducing the new HSBC Secure Key
People have always found ingenious ways to protect their money. At HSBC, we're constantly finding new ways to help keep your money safe. Like the new HSBC Secure Key - a portable device designed to make sure only you can access your personal finances.
Enhanced security against online fraud
Provides an extra layer of protection with two-factor authentication - you'll need a password/PIN and your unique Secure Key to log on and perform sensitive transactions like moving money to third parties.
Peace of mind
Now protecting more transactions and constantly validating only you are making them.
Small and portable
Smaller than a credit card and slimmer than the previous Secure Key, it should easily slide into your pocket or wallet.
Easy-to-use
Just switch it on, enter your Secure Key PIN, and it'll give you a unique, one-off six digit passcode to use each time you log on.

Free when you register to online banking with your HSBC bank accounts.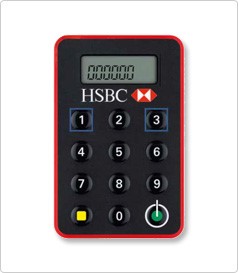 3D Secure Service for Online Purchases
Get peace of mind when you shop online with your HSBC Credit or Debit Card. With HSBC's 3D Secure, you'll get an extra level of protection for your online purchases. This provides you:
Enhanced layer of security for your online purchases, powered by Verified by Visa and Mastercard Identity Check

Honored at major merchant websites that support 3D Secure
Available at no cost
No registration required
Easy to use on any device, with no additional software required
3D Secure replaces HSBC Secure Pay, where cardholders were required to enter a Secure Pay password or answer additional security questions (Card Expiry Date, Date of Birth, and CVV2).
How does 3D Secure work?
When you make an online purchase, you will be asked to enter the following information on the merchant payment page. Check that all of the details are entered correctly:
Card number
Expiry date
Name as shown on card
CVV2 (the 3-digit number printed on the signature panel at the back of the card)
Once submitted, you may be asked to enter a One-Time Password (OTP) if we need to check that your purchase is genuine:
You will be directed to the HSBC and Visa/Mastercard authentication screen requesting for an OTP. It will contain your transaction details: merchant name, transaction amount, and last 4 digits of your card number. Please check that all of the details are correct.
You will receive an SMS from HSBC on your registered mobile number. The SMS will contain the 6-digit OTP.
Enter the OTP on the authentication screen and click the Submit button to complete the transaction. The OTP expires in 3 minutes.
Once your transaction is approved, you will be redirected to the merchant screen confirming your payment.
Safety tip: Never share your OTP with anyone.

Help keep yourself safe online
Please make sure you keep your mobile number with us up to date. You may update your mobile number by:
Logging on to HSBC online banking with your Secure Key. Once logged on, click on your name on the upper right-hand corner of the screen, then select "Edit personal & contact details" (for bank account holders only).
Calling us at:
Visiting the nearest HSBC branch (for bank account holders only).
More Information
HSBC Mobile Banking app
Download the HSBC Mobile Banking app
Download the Zoom mobile app
Protected transactions
With the new HSBC Secure Key, more transactions are now protected to help keep your money safe.
Adding a New Payee (Person)

Transfers to a New Payee (other HSBC account, other HSBC credit card or other local/international bank)

Sending a Secure Message

Global View linking

Glober Transfers between linked accounts

Opening new accounts - savings or term deposit

Ordering a chequebook

Requesting a PIN
HSBC Secure Key help & troubleshooting
Turning on the Secure Key
Setting up your Secure Key PIN for the first time
Generate a security code to log on to HSBC online banking
Generate a transaction security code
How to order an HSBC Secure Key for the first time
The HSBC Secure Key is free for HSBC bank account holders. For other customers, a PHP500 fee will apply.
Log on to online banking
Select your name from the menu at the top of the online banking dashboard and choose 'Manage Secure Key'
How to order a replacement Secure Key