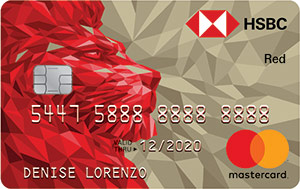 HSBC Red Mastercard Credit Card
Get 4 times bonus points on local and overseas shopping and dining transactions.
You must have the following:
An existing locally-issued primary credit card owned for at least 12 months
A minimum annual income of PHP200,000 for Red Mastercard
Benefits
With the HSBC Red Mastercard Credit Card, you will:
Redeem items, gift certificates and air miles using your accumulated bonus points*

Delight in exclusive privileges

Enjoy fuel savings

6% rebate on your first Caltex fuel purchase plus 3% rebate all year round.

Enjoy an annual fee waiver on the 1st year
Things you should know
*A maximum accumulated monthly spend of PHP40,000 across all qualified merchant categories shall earn accelerated points. HSBC's Accelerated Terms and Conditions apply (see PDF above).

For inquiries or complaints, please call HSBC's Customer Services at (02)8858-0000 from Metro Manila,
+1-800-1-888-8555 PLDT domestic toll-free, (02)7976-8000 from overseas, (country code) + 800-100-85-800 international toll-free for selected countries, or send an email to hsbc@hsbc.com.ph. If you want to find out more about HSBC's customer feedback procedures, please visit hsbc.com.ph/feedback.
The Hongkong and Shanghai Banking Corporation Limited is an entity regulated by the Bangko Sentral ng Pilipinas (Bangko Sentral). You may also get in touch with the Bangko Sentral Financial Consumer Protection Department through their email: consumeraffairs@bsp.gov.ph.
Note: Do not provide your account or credit card numbers or disclose any other confidential information or banking instructions through email.